Introduction to Cyber Security
Learn cyber security basics with this Introduction to Cyber Security course. This course is designed for beginners to familiarize themselves with the current cyber security landscape and provide the knowledge of relevant tools to assess and manage security protocols in information processing systems. Learners can also perform business impact analysis and disaster recovery testing through this program.
Cyber Security Basic Skills you will learn
Cybersecurity fundamentals
Threat actors attacks
Mitigation
Security policies amp procedures
Secure architecture
Wireless networks
Network security controls
BYOD security testing
IS governance
Risk management
Incident management
Business continuity
Disaster recovery
Get a Completion Certificate
Share your certificate with prospective employers and your professional network on LinkedIn.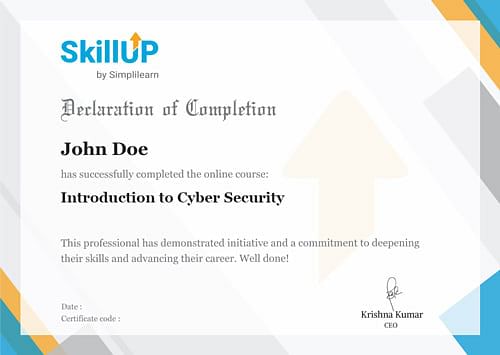 Why you should learn Cyber Security Basics
$110,000-170,000 Avg Salary of cybersecurity professionals
$248 billion by 2023
Expected growth in the cyber security market
Enroll to the Cyber Security course
Do you have trouble accessing the course?
Watch the video course here: